ShareASale is part of Awin (Rated the top CPS Network by mThink) and one of the largest and most popular affiliate marketing networks. It services two main characters in affiliate marketing: the affiliate, and the merchant.
Affiliates use ShareASale to find products to earn commissions and a large number of merchants attract experienced affiliates through it to join their programs.
According to ShareASale statistics:
earned by affiliates last year: $1.3bn
affiliates join every day: 260
brands across all sectors: 21,200+
sales generated in 2021: 194m
revenue generated for clients last year: $16bn
So whether you want to become an affiliate/publisher or merchant, it is always a profitable affiliate marketing network for you.
There are two ways for affiliates/publishers to make money:
1. Choose a merchants' program and join
Thousands of merchants on ShareASale opened their programs for affiliates. Your task is to pick the merchants or products that you are interested in and apply for their programs.
Related post: How to join Shareasale as an affiliate/publisher
For merchant programs, there are also two types: Pay-Per-Sale and Pay-Per-Lead.
Actually, ShareASale has Pay-Per-Click, but there isn't any merchant in this affiliate marketing type.
In your dashboard, in the merchants drop-down menu at the top, click Search for merchants to enter the merchants' search page, and select the merchants you are interested in according to the category.
Once you find out the right merchant for your niche site, click the Join program button. If the merchant approves your application, it will appear on your list.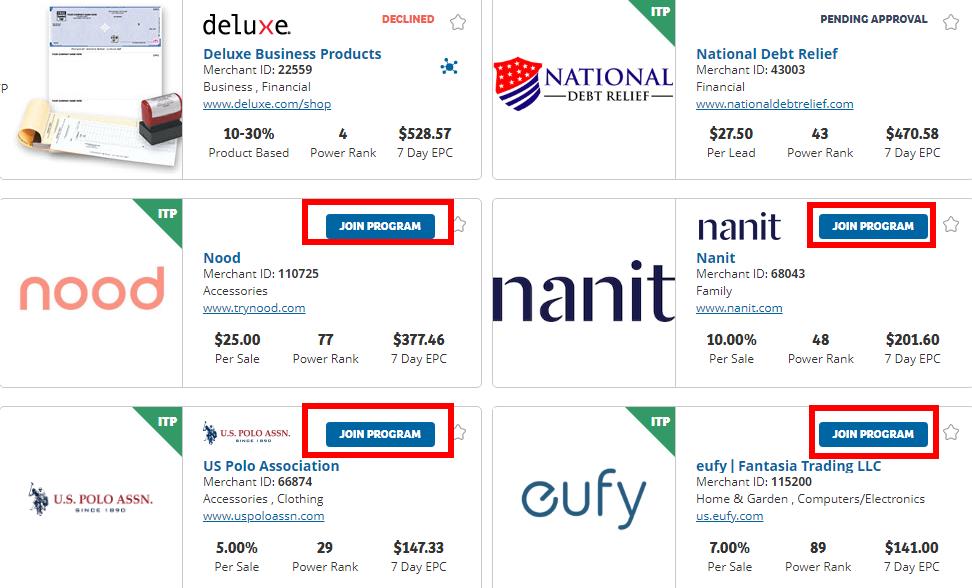 As said at the beginning of this post, ShareASale is a very lucrative affiliate network and attracts many affiliates and merchants to join it.
So ShareASale has built its own affiliate program. You can earn commissions by referring affiliates and merchants to join ShareASale.
affiliate referral: $30
merchant referral: $150
Prerequisites for applying to join ShareASale Referral Program: Only after earning the first commission will you meet the application conditions and your limited membership status can be lifted.
ShareASale's Minimum payment is $50 ( up to $1000 ) and provides 3 payment options:
check
Wire Deposit
Payoneer
For affiliates outside of North America, I personally recommend using Payoneer to collect ShareASale commission. This is the most convenient way.

For Merchants: Spread and Sale Products around the world
There are many advantages to affiliate marketing. In my opinion, one of the most prominent advantages is the significant savings in marketing costs.
There are many experienced affiliates around the world in ShareASale. With only a $625 one-time network sign-up fee, you can access all affiliates and show them your products and profitable programs. Learn more about this.
Related Source: Merchant Setup Wizard Walkthrough
Once joining ShareASale, your can use its tools to design your affiliate program, recruit affiliates to promote them, and so on.
Related Source: ShareASale releases new intelligent tags to simplify partner discovery and recruitment
ShareASale provides all sorts of integration with other great platforms.
Shopify Store
ShareASale's Shopify App facilitates direct communication with affiliate partners (also known as publishers – i.e. websites, tech solutions, influencers, and bloggers) that are active in its database. By implementing App, it can be enabled to promote your business in minutes.
You can download and install this app directly in the Shopify app store. (However, the prerequisite is that you must have a ShareASale merchant account).
Woo Commerce Store
ShareASale has developed a tracking plugin for their clients who use WordPress as their CMS system and WooCommerce as their cart. Learn more
BigCommerce Store
If your store is built by bigcommerce.com and has joined the ShareASale merchant program, here are the tutorials for tracking sales.