After finishing the previous step, this step is to install the tracking code. This code is invisible. With the tracking code, you/Shareasale can know which affiliate has sold your product, how much has been sold, what channel, and so on.
The combination of cookies and tracking pixels completes ShareASale's tracking works. The consumer's device (processed by ShareASale) stores cookies, and the tracking pixel is a piece of code on your shopping cart confirmation page, also known as the "thank you" page.
By default, the tracking pixel lets ShareASale know the OrderID, OrderSubtotal, and Transaction Type. From there, ShareASale will be able to piece together the whole story, letting you know which affiliate sent what sale, how much, when, etc.
The prerequisite for this code set is to select the shopping cart system platform first. ShareASale is compatible with most shopping carts (more than 70 kinds).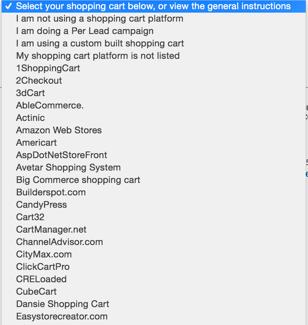 You can convert your cart from one type into another by cart2cart.
If you build an online shop with WordPress, then installing the tracking code is very simple. Download the Shareasale WC tracker plugin, enter your ShareASale Merchant ID, the plugin will automatically install the tracking code, and you don't need to do anything else.
please refer to the official instructions of the ShareASale-PDF file-learn more details
Attached:
This tracking code looks like this: